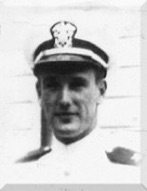 My father's story began early on the morning of April 29th, 1944 when during a mission aboard PT347 along with the PT350 to seek out any Japanese predawn traffic. His PT boat in which he was Skipper, the 347 runs up onto a reef at a location called Lassul Bay. This bay is located on the North/West corner of the island of New Britain on the Gazelle Peninsula. One and a half miles West of Cape Pulmas. In New Guinea. (later to be called Papua New Guinea)

    The exact location of where this incident happened is very relevant. The U.S. military's demarcation line dividing the South Pacific from the Southwest Pacific ran through Cape Lambert to the Northwest. The spot in which they ran aground was approximately six miles from this line.
    What is also relevant to this tragedy is how good the weather was.
The weather was clear, the sea was calm, with a visibility of fifteen
miles.
On the same morning of the 29th of April, 1944 there was another mission. Major James K. Dill, U.S. Marine Corps, led this mission. Dill

and his three corsair's mission were to strafe any targets of opportunity. One of the corsairs developed engine problems and was told by Dills to return to base with another plane for cover.
    This left Major Dill and his wingman Lt. Cochran to strafe various targets along the shore of west ward towards Cape Pulmas then crossing the demarcation line. His wingman radioed that there were two ships ahead. Climbing to 6000 feet above AA fire the two planes started to dive on the targets, later saying, "there was no recognition signals of any kind."

    After strafing once and then circling once, Dills would not see his wingman Lt. Cochran again. Major Dill then dispatched to Green Island, "Ordering immediate Attack!" Returned to base informing the Squadron Intelligence Officer and pinpointing the location of the enemy gunboats.

    After being briefed on the shipping strike, but also taking necessary precautions before sending the order to strike immediately, and to look out for any identification. 8 SBD's, 6 TBF's, and 4 F6F's made up the strike. A Lieutenant Knite took the lead and led the flight to the boats. Lt. Knite failed to return from the strike and, to date, hasn't been seen since.

    Dills and three other corsairs mission orders were to circle above, and when the bombing was over, to search for his downed wingman. Instead after the bombs were dropped, they strafed the men in the water for up to 45 minutes.